The benefits of the Tunturi WB20 Weight Bench
✔Different training options for home training
✔Weight bench and abdominal board thanks to the backrest with adjustable seat
✔Dip station on barbell supports to train your arm muscles
✔Compact and easily foldable
Work out at home with a weight bench and abdominal board
Create a sloping backrest with the adjustable seat. This way, you turn the weight bench into an abdominal board. Adjustable footrest. choose one of the three positions to create different training levels. The adjustment system is user-friendly and fast: change position effortlessly. Use the strap to secure your legs to the bench. Train safely. The weight bench has barbell supports on which a barbell can be placed. Five adjustable heights ensure that the supports are at your ideal height. This way, everyone can exercise correctly.
Train your arm muscles with the dip station. This Tunturi weight bench has dip handles that enable you to do dips on the barbell supports.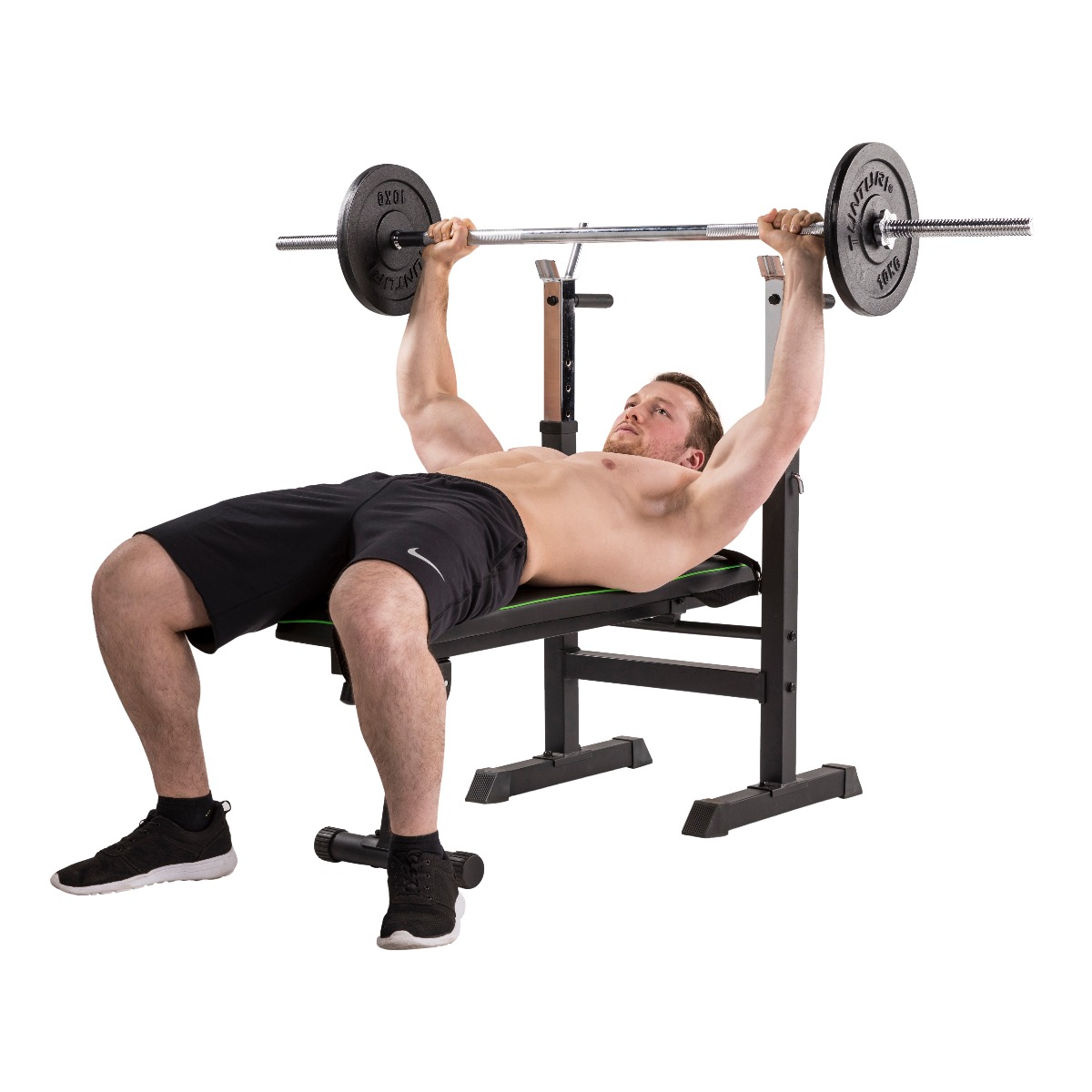 The stitched seat with extra sturdy corners guarantees that you can use your weight bench for many years and prevents wear and tear to delicate parts. The frame, made of robust steel, ensures the necessary strength. The black matte powder coating finish gives the bench a sleek look. The anti-slip rubber floor protectors prevent damage to the floor. With this compact weight bench, you save space. Fold the weight bench and place the WB20 in an upright position with the push of a button. This way, it fits in any corner of your home.
Get working on your abs and arm muscles with this bench press from Tunturi. Reserve yours quickly!
Overview of specifications
• Foldable: dimensions when pulled out: L: 122 cm (48 inches). W: 56 cm (22 inches). H: 105 cm (41.3 inches).
• Foldable: dimensions when folded: L: 50 cm (19.7 inches). W: 57 cm (22.4 inches). H: 130 cm (51.2 inches)
• Housing: steel
• Upholstery: foam and vinyl
• Anti-slip rubber floor protection
• Backrest with adjustable seat
• Weight bench with barbell supports
• Ab trainer
• Maximum user weight: 120 kg (264.6 lbs)
• Excluding bar and weights
• Weight: 17.5 kg (38.6 lbs)