The benefits of the Tunturi WB40 Weight Bench
✔Multifunctional started model for the novice trainer
✔Versatile arm and leg trainer
✔Several exercises are possible, thanks to the backrest with its 4 adjustment options
✔Store weight plates away neatly thanks to the extra storage space
The ideal starter model weight bench
The backrest has 4 adjustment options: enabling you to train in different positions and ergonomically responsible. Anyone can start weight training with this well-equipped starter model weight bench.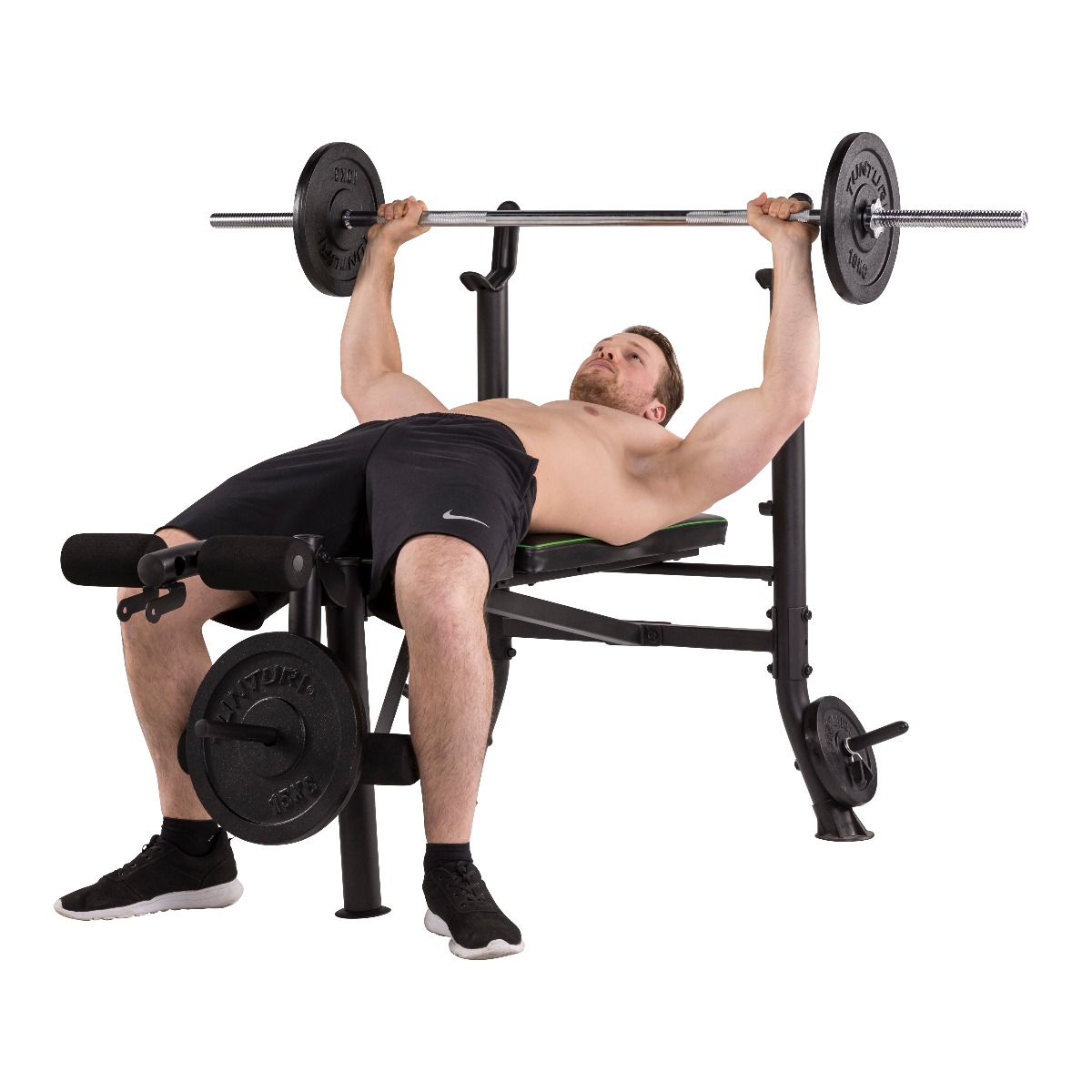 The WB40 has barbell supports. The rod must be at least 165 cm (65 inches) long or it won't fit between the barbell supports. The barbell support ends have angled parts for extra safety. These ensure that the weights cannot fall from the supports. Already have bars? No problem: you can use Olympic bars or normal weightlifting bars. Store the weight plates away neatly when not in use: the barbell supports also provide storage space.
The weight bench is equipped with a multifunctional arm and leg trainer at the front. Use this trainer, in combination with the support cushion and sturdy handlebars, for a safe and controlled workout. You also train your leg muscles this way. The arm- and leg trainer is covered in sturdy foam and vinyl to provide protection to your arms and legs.
The stitched seat with extra sturdy corners guarantees that you can use your weight bench for many years and prevents wear and tear to delicate parts. The frame, made of robust steel, ensures the necessary strength. The black matte powder coating finish gives the bench a sleek look. The anti-slip rubber floor protectors prevent damage to the floor.
The weight bench's maximum user weight is 120 kg (264.6 lbs).
Start exercising today. Start with this versatile starter model weight bench from Tunturi. Don't delay!
Overview of specifications
• The weight bench's dimensions: L:168 cm (66.1 inches). W: 108 cm (42.5 inches). H: 118.5 cm (46.7 inches)
• Housing: steel
• Upholstery: foam and vinyl
• Anti-slip rubber floor protection
• Stitched seat and backrest
• Backrest adjustable in 4 positions
• Multifunctional arm and leg trainer
• Weight bench with barbell supports
• Space to store weight plates
• Minimum length of the weightlifting bar is 165 cm (65 inches)
• Maximum user weight: 120 kg (264.6 lbs)
• Excluding bar and weights
• Weight: 27.5 kg (60.6 lbs)